Seven years ago, Kerry Adler watched as the disaster at Lehman Brothers Holdings Inc. scuttled his vision of renewable-power riches. Today, he has reassembled assets from the collapsed investment bank, laying the foundation for a
green-energy
colossus.
Adler's SkyPower Ltd. has
lined up deals
to build utility-scale
solar farms
in North America, Asia and Africa worth more than $12 billion — though how the projects will be financed remains a mystery.
To date, SkyPower has completed 23 projects totaling 300 megawatts, ranking it just 34th among solar developers worldwide, according to Bloomberg New Energy Finance. But if Adler is successful in fulfilling all of his signed contracts, he will have more renewable power capacity than any operator currently has.
SkyPower aims to "kickstart this market in the hope of bringing power to people that really deserve it," Adler, 50, said by phone from Kenya as he wrapped up his second major deal this year.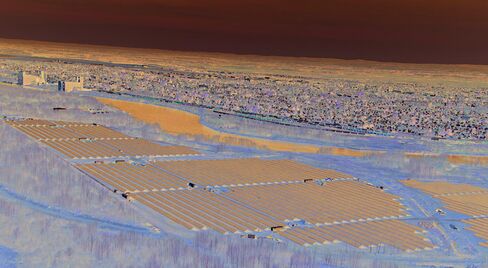 That was a $2.2 billion pact for 1 gigawatt of solar — about the capacity of a typical nuclear reactor, and massive for renewables — that will take years to build. SkyPower has also begun a joint venture in Mexico, and within two months expects two more deals in the Middle East and Africa, each about as big as the Kenya contract.
SkyPower has projects with a total capacity of about 25 gigawatts in the works, and Adler says he can build 7 gigawatts within five years. Even that would make it far larger than the biggest developers of commissioned solar projects: China's Huanghe Hydropower Development Co Ltd., which has 2 gigawatts, and Arizona-based First Solar Inc., with 1.2 gigawatts, according to Bloomberg data. In terms of projects in the pipeline, only Missouri-based
SunEdison Inc.
is bigger, with deals representing 53 megawatts on the table.
Ref
http://www.bloomberg.com/news/articles/2015-08-19/a-solar-energy-giant-rises-from-the-rubble-of-lehman-brothers