KUALA LUMPUR, Malaysia (AP) — The missing Malaysia Airlines plane crashed into a remote corner of the Indian Ocean, the nation's prime minister said Monday night, citing a new analysis of satellite data. The statement was the first major step toward resolving a 2-week-old mystery that has consumed the world.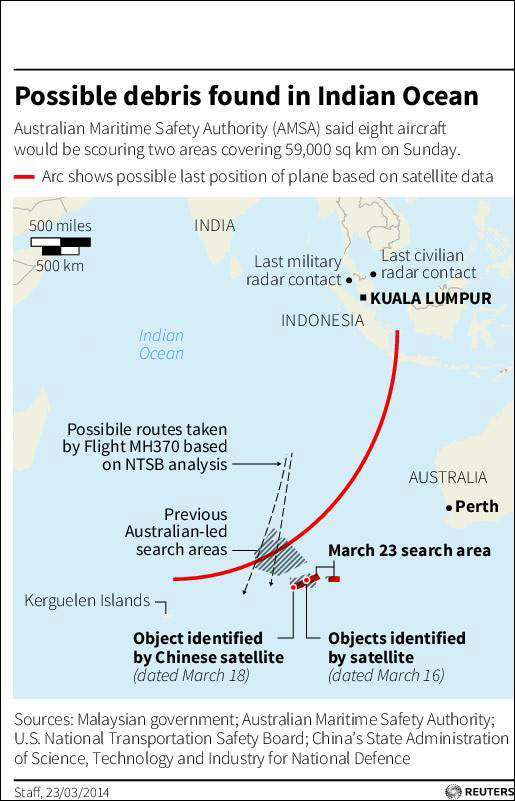 But with the location of Flight 370 itself still unknown — most likely somewhere at the bottom of the sea — profound questions remain about what brought down the aircraft and why.
Dressed in a black suit, Prime Minister Najib Razak announced the news in a brief statement to reporters, saying the information was based on an unprecedented study of data from a satellite that had received the final known signals from the plane.
He said the data indicated that the Boeing 777, which took off from Kuala Lumpur for Beijing on March 8 with 239 passengers and crew, flew "to a remote location, far from any possible landing sites."
"It is therefore with deep sadness and regret that I must inform you that, according to this new data, Flight MH370 ended in the southern Indian Ocean."
On Monday, an Australian navy support vessel, the Ocean Shield, was headed toward the search zone and was expected to arrive in three or four days, a defense official said. The ship is equipped with acoustic detection equipment that can search for the black box.
The U.S. Pacific Command said it is also sending a black box locator in case a debris field is located.
The Towed Pinger Locator, which is pulled behind a vessel at slow speeds, has highly sensitive listening capability that can hear the black box pinger down to a depth of about 20,000 feet (6,100 meters), Cmdr. Chris Budde, a U.S. 7th Fleet operations officer, said in a statement. He called it "a prudent effort to pre-position equipment and trained personnel closer to the search area."
The ocean depth in the current search area ranges between 1,150 meters (3,770 feet) and 7,000 meters (23,000 feet).
U.S. Deputy National Security Adviser Ben Rhodes on Monday stopped short of saying the U.S. had independent confirmation of the status of the missing airliner. He noted the conclusion of Malaysian authorities that the Boeing 777 had plunged into the Indian Ocean and said the U.S., which has been assisting the search effort, was focused on that southern corridor of the ocean.
Earlier Monday, Malaysia's police chief, Inspector General Khalid Abu Bakar, reiterated that all the passengers had been cleared of suspicion.
But he said the pilots and crew were still being investigated. He would not comment on whether officials had recovered the files that were deleted a month earlier from the home flight simulator of the chief pilot.
http://in.news.yahoo.com/malaysia-missing-flight-crashed-indian-ocean-143151129--finance.html